2019
11.03
The Conservatory of Fine Arts is in need of a new logo!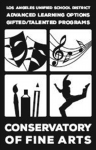 Students in both Performing and Visual Arts are invited to participate. The winner will receive recognition and a t-shirt or sweatshirt with their logo!
Guidelines are here.
All entries must be turned in to the 3rd floor desk in the Fine Arts Bldg by 1pm
November 23, 2019

.
Good luck students!!