2023
02.21
Hello FOVA Family,
We are proud to be back to Conservatory this coming Saturday 2/25/23. Our T-Shirt sale will be going on and please donate to our snack tables for the kids. Some needed items are: napkins, madeleines, chips (all flavor and spicy), capri-suns, sprite, and chicken and shrimp cup-o-noodles.
We are also excited to share with you, like last year, an opportunity to "give" some more love to FOVA and the Conservatory of Arts Program by participating in our 2023 FOVA "Gift Card Giving Tree" raffle.
What is a "Gift Card Giving Tree"?
We are raffling off two (2) decorative LED tabletop "Gift Card Giving Trees", each adorned with over $240 worth of gift cards in various denominations to some of your favorite stores and restaurants. For each separate raffle, you win both the tree and the gift cards that are attached!
How much are raffle tickets?
Raffle tickets are 1 ticket for $5, or 5 tickets for $20.
How do I purchase them?
Online:     PayPal – Simply go to FOVA.org and click on the PayPal button.
Venmo – FOVA @FOVAfaq-ParentVolunteer
*Please be sure to include your name, and which raffle tree (Tree #1 or Tree #2) you would like your tickets to be entered into.
In-Person: We will be displaying the trees on campus during class this Saturday, February 25th.
This will be an opportunity to purchase tickets in person. All other payments will be accepted online through our PayPal or Venmo accounts.
What is the window of time to purchase my online raffle tickets?
You have from today, February 21th through March 3rd at 5pm to purchase raffle tickets online via PayPal or Venmo.
When will the winners be selected? Do I need to be there to win?
We will publicly draw the winners for each tree, on-site, at the Conservatory for each on the morning of Saturday, March 4th. You do not need to be present to win. We will notify everyone of the winners.
Thank you for your continued support!

Tree #1:
$55 Target
$50 Panda Express
$47 Crate and Barrel
$25 VISA
$25 Burger King
$25 Old Navy
$20 "happy teen" Regal Cinemas/Dave&Busters/Barnes&Noble/Jamba/Sephora/American Eagle/ Under Armour
Total Value: $247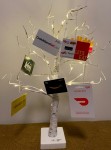 Tree #2:
$50 DoorDash
$50 REI
$50 Red Lobster/Panera/Chilis/Cheesecake Factory/Cracker Barrel
$47 Crate and Barrel
$25 Amazon
$25 Forever 21
$15 McDonalds
Total Value: $261